CDs/Media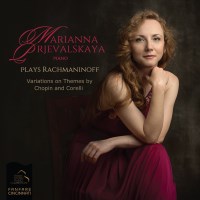 Marianna Prjevalskaya dedicado a Rachmaninoff sale a la venta el 10 de junio del 2016. Grabado para el sello Fanfare Cincinnati, el disco incluye las Variaciones sobre un tema de Chopin, Op.22 y las Variaciones sobre un tema de Corelli, Op.42. Marianna Prjevalskaya plays Rachmaninoff (Fanfare Cincinnati FC-008) ya está disponible en Amazon: Marianna Prjevalskaya plays Rachmaninoff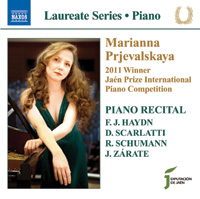 El disco de NAXOS ha salido a la venta en septiembre del 2012. Se ha mantenido como el n1 en los discos mejor vendidos de Naxos por más de tres meses. Está disponible en AMAZON. El disco incluye una selección de Sonatas de Scarlatti, Andante con Variaciones de Haydn en fa menor, la Sonata en fa sostenido menor op.11 de Schumann y la Aurgitana de José Zárate.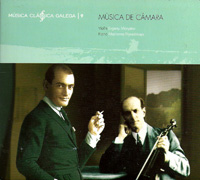 Chamber music for violin and piano by Gaos and Manuel Quiroga. Evgeny Moryatov (violin) and Marianna Prjevalskaya (piano)
Edited in 2003 by BOA Recording. Note: Includes Sonata Opus 37 y Romance Opus 20 by Gaos.
Chaikovski: Concierto para piano y orquesta nº 3, en mi bemol mayor, op. 75
Orquesta Sinfónica de Galicia/Ion Marin, director
Schumann Sonata Op.11 in F sharp minor mov.1 and 2
Rachmaninov Variations on a Theme by Corelli Op.42
Debussy Prelude from Book II Feuilles mortes (Recorded in January 2014)
Title
Flash
MP3
Duration
Scarlatti: Sonata K.365 en fa menor

MP3 Player

(3'15')

Beethoven: op.53 en do mayor "Waldstein
first movement - Allegro con brio

MP3 Player

(7'55')

Chopin: Estudios del op.10 no.5

MP3 Player

(1'30')

Chopin: Prelude op. 28 no.19

MP3 Player

(1'21')

Chopin: Prelude op. 28 no.21

MP3 Player

(2'11')

Chopin: Prelude op. 28 no.22

MP3 Player

(0'43')

Chopin: Prelude op. 28 no.23

MP3 Player

(0'57')

Haydn: Andante con variaciones en fa menor Hob.17/6

MP3 Player

(9'06')

Paderewski: Krakowiak

MP3 Player

(3'02')

Rachmaninov: Sonata op.36 en si bemol menor, versión primera (1913): I. Allegro agitato

MP3 Player

(10'51')

Rachmaninov: Sonata op.36 en si bemol menor, versión primera (1913): II. Non allegro

MP3 Player

(8'01')

Rachmaninov: Sonata op.36 en si bemol menor, versión primera (1913): III. L'istesso tempo-Allegro molto

MP3 Player

(7'30')